Read the full article HERE
The list of great bands grows ever smaller, with the likes of Slayer, Twisted Sister, Black Sabbath and many others hanging up their guitar strings and saying goodbye to the millions of people that have been supporting and listening to their music for the last 20, 30, or 40 years.
One band, however, that shows no signs of slowing down are UK rock legends, Def Leppard. Still delivering the goods after over 40 years on the go, they take to the 3 Arena in Dublin for another high octane performance.
Cheap Trick are the openers to the event, and I was quite excited to see them because they'd been a bucket-list live act that has since eluded me. Armed with this sense of wonder at one of the most well-known bands that came from the USA, I was thrilled to finally see them.
As all 5 members took to the stage, with trademark novel guitars in tow, Cheap Trick got stuck in. Frontman Robin Zander has a real "Alice Cooper" thing going on, complete with top-hat and spangled white jacket but it seems that he is sorely disinterested in doing anything other than walking around the stage, and at one time, leans on the speakers mid-song. Now, I do get that the man is no spring chicken, but he just doesn't seem to want to be there.
There was no real engagement with the crowd, and a golden opportunity to light the place up during "I Want You To Want Me" was missed as the band skipped the part of the song where only the drums play and Zander sings that would have had everyone's gears greased. I'm sure there's a reason for it, but it escapes me.
Lead guitarist Rick Nielsen however, seems to be loving it, as he never stops smiling from one minute to the next. Sporting a perfectly square guitar, and at one point, a 5-neck axe, he is seriously involved. That's the best part of the night so far – Nielsen is giving it socks and remembers that he still loves to do what he does. The final bow out of "Surrender" goes down a smash, but I see people shaking their heads at a lacklustre performance overall. 2/5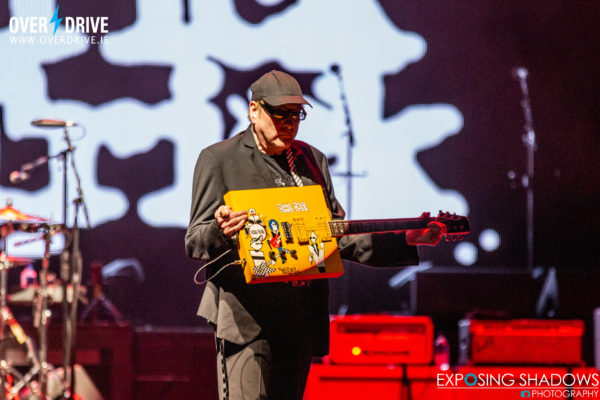 Def Leppard are no strangers to Irish shores with a long history of living, recording and gigging here, having in-fact been here only 3 years ago.  Tonight, the band is bringing their infamous "Hysteria" album under their collective arms, and break it across our heads.
Playing it in its entirety, "Hysteria" has been hailed as one of the greatest rock albums of all time, and is still selling to this day, despite coming out in the early 1980s. It has aged well, and still rocks the house whenever I hear "Pour Some Sugar On Me", or "Animal".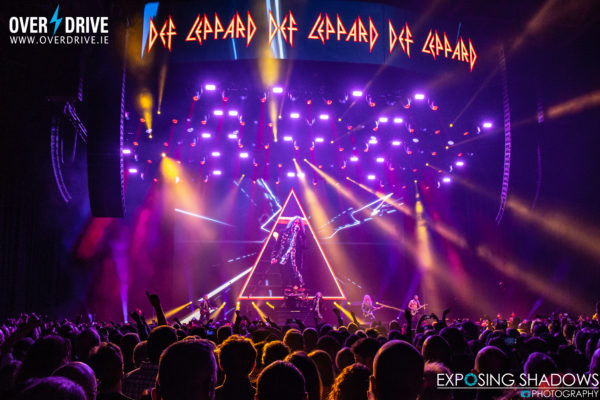 Frontman Joe Elliott is his usual upbeat and gracious self, acknowledging the audience and generally being a dude onstage. Shredder Vivian Campbell is still the monster he always was and never stops moving. Drummer Rick Allen sports a very snazzy pair of glittery headphones that you can see from space. The perma-permed bassist Rick Savage bounces all over the stage and stands on the speakers for an eagle-eyed view of the audience for 'Gods of War'.
The lighting for the show is as always, absorbing and the sound is perfectly timed. This is a testament to how well the band works together, and it is obvious by watching them move together onstage. Guitarist Phil Collen does his usual thing of showing off the chest that is the envy of the gym-going workaholics that like their greasy food and occasional pint of plain (I include myself in that cohort).
So "Hysteria" kicks off with 'Women', 'Rocket', and 'Animal' the atmosphere is electric here. Each person is banging the heads, dancing and pumping their fist in the air. Elliott works his magic with his bandmates, igniting the night for everyone's enjoyment. The visuals pretty much stick to the image of an old TV with clips of Richard Nixon, Ziggy Stardust, the Apollo launch and a host of other 70's era media coverage.
There is a touching moment with a clip of original guitarist Stephen Clarke performing with Leppard back in the 80s (Clarke tragically died in 1991 in London from alcohol poisoning).
The Leppard throw us 2 songs never before played in Dublin ('Don't Shoot Shotgun' and 'Excitable'), and the audience erupts in appreciation when Elliott makes the declarations that they weren't played there before. As the night goes on, the hits keep coming, and the singalong 'When Love & Hate Collide' that goes hand-in-hand with 'Rock of Ages' and 'Photograph'.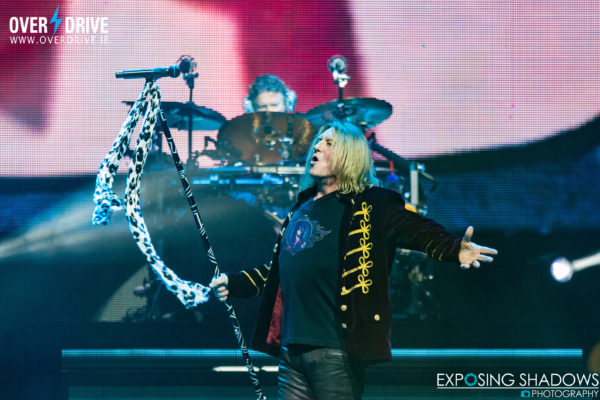 It's a typical Def Leppard gig: the lads let the music do the talking, and it's louder than any speech. As the night draws to a close, we are reminded "If you don't forget us, we won't forget you!" All 5 men take a bow front and centre on the end of the walkway protruding from the centre stage and bid us goodnight. This was another absolutely fantastic gig with nostalgia and good times throughout. The event is over by 11 pm – but in Dublin on a Saturday night, that's only early. 4/5
Setlist:
01 – Women
02 – Rocket
03 – Animal
04 – Love Bites
05 – Pour Some Sugar On Me
06 – Armageddon It  (Steve Clark Guitar Solo)
07 – Gods Of War
08 – Don't Shoot Shotgun – (First time in Dublin)
09 – Run Riot
10 – Hysteria
11 – Excitable – (First time in Dublin)
12 – Love And Affection
13 – Action
14 – When Love & Hate Collide
15 – Let's Get Rocked
16 – Rock Of Ages
17 – Photograph