Via: The Guardian
Def Leppard review – metal legends revisit a riff-laden classic
5/5stars
O2 Arena, London 

The British hard-rock favourites play their 1987 album Hysteria in full in a show that demonstrates their scintillating craft
wo days before his 61st birthday, Phil Collen stands stripped to the waist, his torso oiled, striking the first notes of Def Leppard's 1987 album Hysteria on his guitar. In fairness, after several decades in which the gym has taken the place of drink and drugs, he has the kind of body most men his age would consider achievable only by means of radical surgery. What's more, the song he's starting – Women – is one so silly that an oiled torso seems only fitting. "And in the garden, lust began," sings Joe Elliott – who remains fully clothed at all times – "the animal instinct, the wanton man."
Lyrics were never Def Leppard's strong suit. But hooks were. Hysteria – played in full tonight – has sold somewhere in the region of 25m copies because it leaves nothing to chance. Rather than write songs and record them, Def Leppard wrote the best sections they could, which they then assembled into songs in the studio with producer Robert John "Mutt" Lange. Live, you realise just how complex the edifice is: the interlocking vocals (with lots of glam-rock chanting), the switches between guitars, the fact that every song just gets bigger: this bit should be the chorus! No, this bit should! No, this is the chorus! It's irresistible.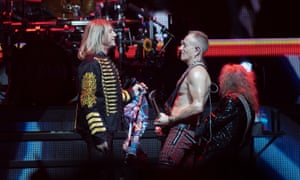 It's a testimony to how powerful Hysteria was that we're 40 minutes into the show before there's a song that wouldn't be intimately familiar to anyone around in the late 80s. Hysteria spawned seven singles, and thoroughly deserves its reputation as hard rock's Thriller. You realise how sophisticated it was when the band follow it with their second single, Wasted, from 1979. It's perfectly decent, miles better than most of their New Wave of British Heavy Metal peers, but it would never have opened arena doors for them. It took the set closer, Photograph, to do that. Collen and Vivian Campbell burst into its opening riff – one so indelible it will be playing in a loop on some automated classic rock station long after humanity has died – and you can't help but thrill. What a great British pop group.
• At Motorpoint Arena, Nottingham, on 8 December. Then touring.